Renting your accommodation in Courchevell : The Guide
The offer of chalets and apartments for rents in Courchevel can satisfy the most eclectic demands. With a total capacity of more than 30 000 beds distributed on hotels, apartment residences and individual chalets, everything is possible, both for rent and for sale. If Courchevel has a wide offer of standard accommodations, the resort is different particularly in regards to prestigious accommodations.
You will find at all levels of the resort of Courchevel an incomparable offer of apartments for rent and exceptional chalets. Whether you are looking for a ski-in-ski-out chalet accommodation on the slopes, in a calm setting, in the resort centre, benefiting from facilities or exceptional services, the accommodation offer in Courchevel will live up to your expectations. Discover here the exceptional potential of this resort, an offer of ski accommodation as few resorts offer in the Alps.
Luxury apartments for an exceptional skiing holiday
In Courchevel, Courchevel Moriond, Courchevel Village but also Le Praz, you will find a very complete offer of luxury apartments of different capacities. These apartments are distinguished by their location, their facilities, their living area, their decoration, the associated services and the welcome provided at your arrival. Are you looking for a ski in ski out apartment, a family apartment, a residence nestled in the hollow of fir trees, an apartment enjoying a spacious sunny terrace, equipped with jacuzzi, offering a traditional decoration or all this at the same time? Cimalpes has the accomodation you are looking for.
Tell us your expectations ... and let us surprise you!
Would you like to rent a apartment in Courchevel? Let us know your criteria and let us suggest apartments for rent that will meet your expectations and even beyond!
Are you looking for an apartment in a privileged location? Apartment at the foot of the slopes or in the heart of the fir trees, apartment with terrace enjoying an exceptional view and exposure, apartment in the heart of resort with immediate access to shops and services, Cimalpes has a catalog of apartments of standing in Courchevel which will give you satisfaction, whatever your criteria.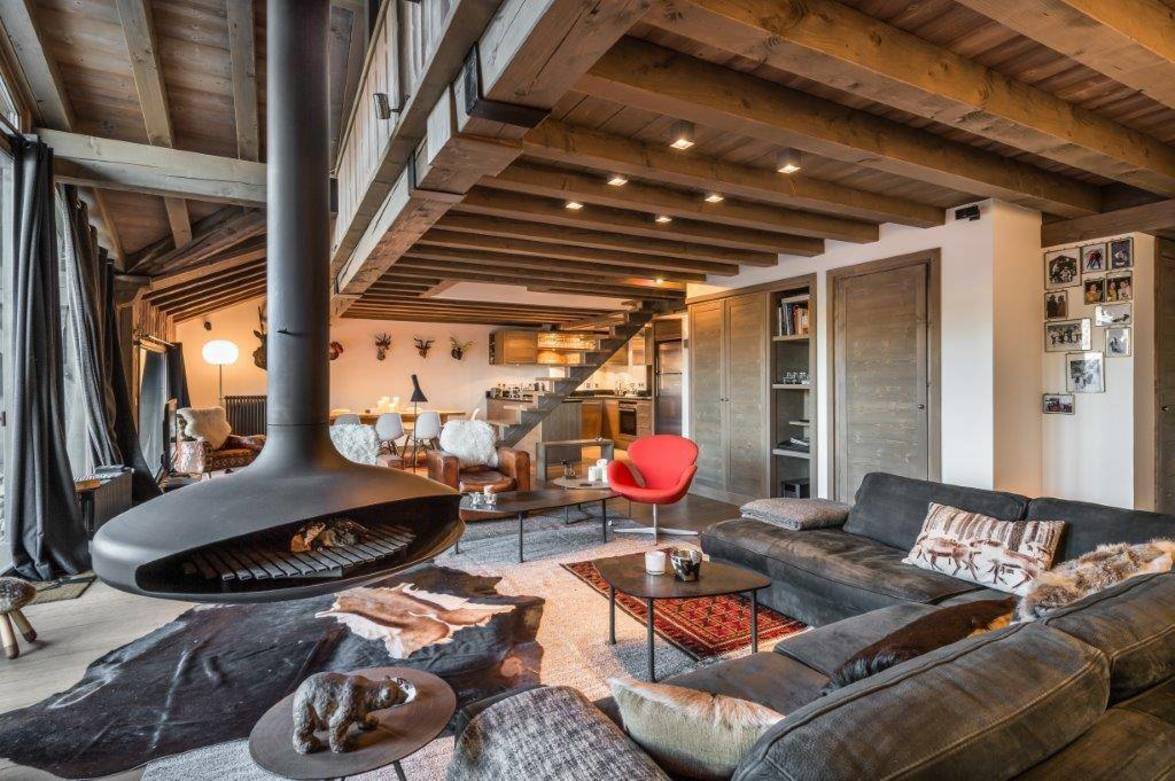 Would you like to rent an apartment with a refined interior decoration? All of the high end apartments for rent in Courchevel that we propose have a a unique, personalized and carefulle composed interior decoration, delivering an atmosphere suitable to make your holiday a total change of scenery. Due to its contribution to the authenticity of the architecture, wood is usually very present throughout the apartments. Our Courchevel apartments offer an atmosphere that is sometimes traditional and sometimes design, with sometimes a subtle balance between the two... Quality furniture, arrangement, lighting, spacious living areas, attention to detail: find the apartment that suits your preferences and personal taste...
Are you looking for an apartment with exceptional facilities? Out of the ordinary is the norm in Courchevel and Cimalpes offers you the best: generous bathrooms benefiting from balneo baths, fully equipped and welcoming kitchens, balconies and terraces of generous size, and wood fire or ethanol chimney which gives all its character to the main living area of the apartment.
Services included ? With Cimalpes the rental of a luxury apartment in Courchevel includes all the services that make the difference: home linens at your disposal (sheets and towels), beds made on arrival, welcome products and slippers. We take care of you with the small gestures inherited from the upscale hotels, the little details that will certainly please your family and friends!
A luxury chalet in Courchevel?
Ultimate comfort, high end equipment, vast living spaces, five-star services, exclusive location, stunning exteriors... The luxury chalets in Courchevel offer spacious living areas and include facilities such as saunas, hammams, jacuzzis, gyms, home cinema and of course skis rooms.
These luxury chalets also include semi-professional kitchens, generous volumes, imposing fireplaces and bay windows, outdoor Nordic baths, and bedrooms with en-suite bathrooms. With a catalog of many properties available for rent, Cimalpes is able to offer you the configuration adapted to your needs. With family or friends, you will certainly find the perfect chalet to rent for your stay in Courchevel, at the foot of the slopes, in a quiet area or with a view over the glaciers and the surrounding peaks.
The state-of-the-art equipment, multimedia in particular, blends well with a neat decoration designed by professionals. Giant screen, high speed Internet connection, home automation, our chalets know how to deliver all the comfort and the pleasure of the high technology via installations as discreet as highly performing.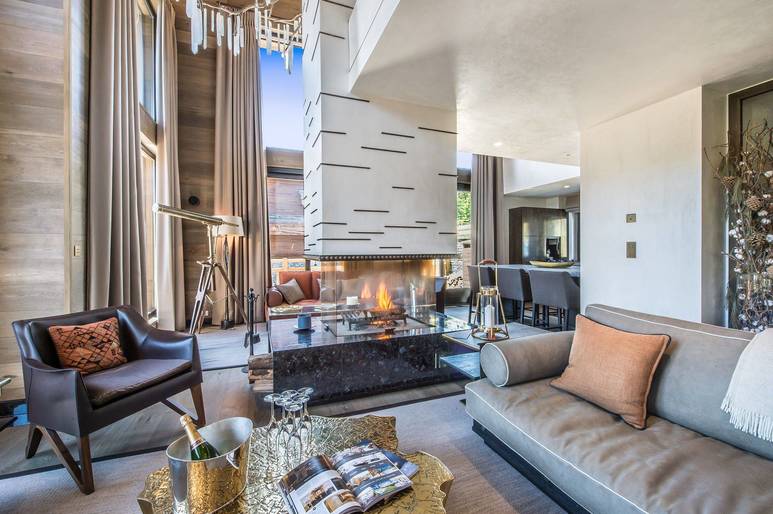 The traditional decoration of the prestigious chalets of Courchevel allows the wood to express itself in all its natural beauty. There are also luxurious chalets with a resolutely modern decoration and design, some chalets also play the mix of traditional and modern, creating original and unique atmospheres. Discover the Cimalpes selection of prestigious chalets for rent in Courchevel and give your next ski holiday the resolutely exceptional character you deserve!
The rental of our prestigious chalets in Courchevel are also accompanied by a range of "à la carte" concierge services that you can book at your convenience, such as preparation and service of breakfast and dinner by a chef and a butler. All our chefs and chalet managers have a solid experience in luxury hotel and catering, and they will know, in all discretion, to offer you a high-flying experience of the culinary tradition and the French art of living with style.
The traditional ski chalet
If you are looking for a ski chalet accommodation that recreates a traditional and authentic atmosphere in every way, the architects of Courchevel continued the works of the architect and urbanist Laurent Chappis who orchestrated the birth of the resort, to comfortable chalets inspired notably by the famous mazots, these typical barns of the Tarentaise and the Maurienne valleys.
Wood and traditional furnitures are king, exposed beams and warm and bright interiors. These traditional chalets which benefit from a high level of comfort promise you the immersion and the change of scenery that you seek. The art of the architects, designers and designers of the traditional luxury chalets of Courchevel, is to integrate modern and efficient equipment in traditional decoration, discreetly and tastefully. Classic and efficient stoves in the kitchen, bathrooms with balneotherapy facilities, multimedia equipment and many others are available in our traditional chalets.
Central point of the traditional Savoyard chalet, the fireplace throning in the center of living area to deliver a warm and comfortable atmosphere. Enjoy après-ski in the warmth of your chalet, glazing at the dancing flames in the fireplace and the view out the bay windows onto the surrounding peaks... Cosy mountain ambiance guaranteed!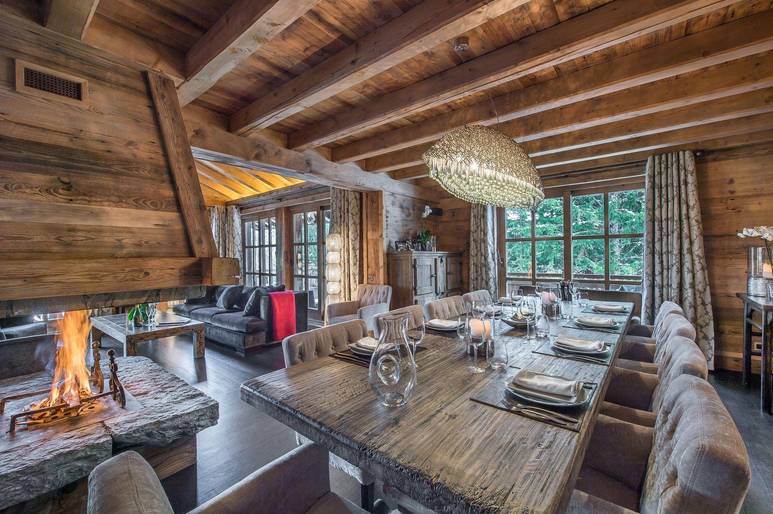 Looking to spend an authentic time while in Courchevel? Discover Cimalpes' offer of traditional alpine chalets, whatever capacity and location you want we certainly have the offer that suits you.
Gather your tribe with a family chalet
Looking for a large family chalet to reunite your tribe of friends or family in Courchevel? In every village of Courchevel you will find chalets with capacity for 6 to 16 people perfectly adapted for families with dedicated playrooms for children, en-suite bedrooms, an ideal location for ease of access to skiing, either isolated or in the heart of the villages for more night life action. At your convenience, Cimalpes accompanies you in discovering our selection of family chalets in Courchevel with ski room, garages, jacuzzi, sauna, hammam, Nordic bath on the terrace, elevator...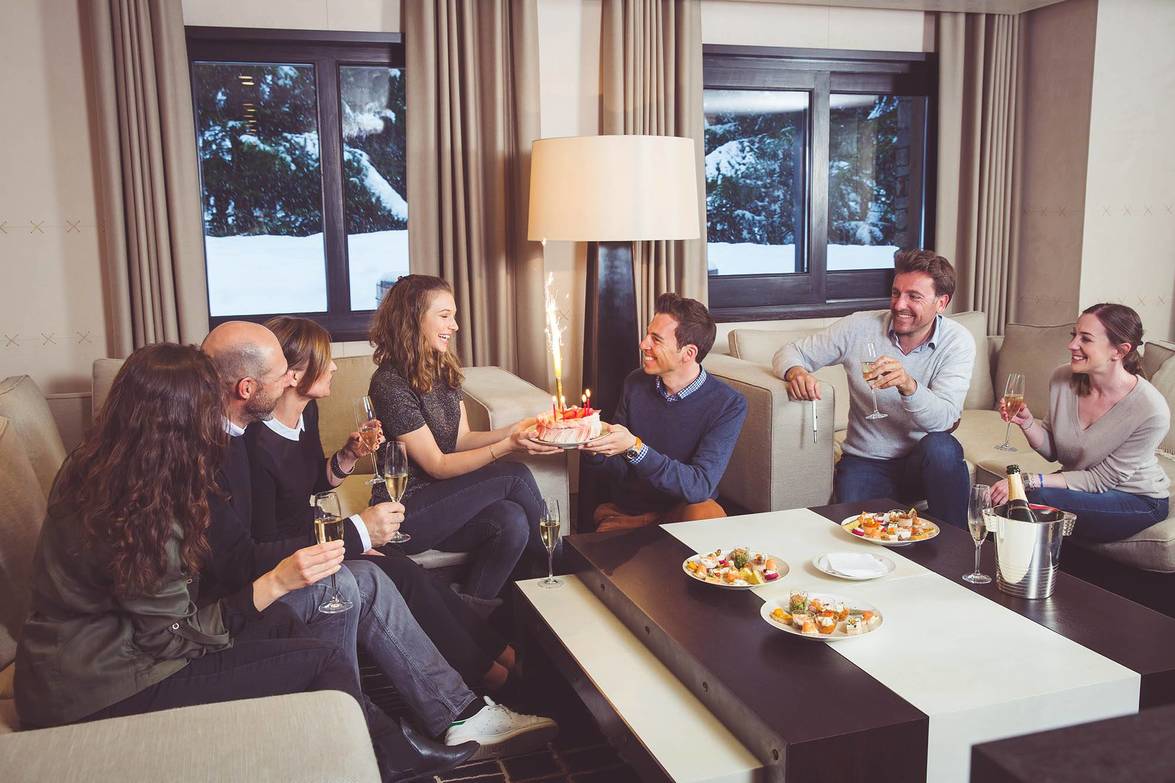 Your family chalet rental in Courchevel is also a range of services available "à la carte" and thought for families: you can thus opt for the services of a housekeeper, a cook and a butler, daily cleaning, a chauffeur... Everything is possible: contact us for more information. Consult the Cimalpes catalog of family chalets in Courchevel and let yourself be surprised by the quality and diversity of our offers: your family holiday has never started so well.
Ski in and ski out chalets
If you prefer direct access to the slopes to practice your favorite sport, Cimalpes has a large selection of chalets with ski in and/or ski out access. Privileged locations, fully equipped ski rooms, your chalet on piste will allow you to ski on demand with a disconcerting facility. Enjoy the Courchevel ski area with a chalet on piste that will allow you to ski at any time of the day, to make as many breaks as you want.
Ski in ski out chalets in Courchevel usually offer additional amenities and equipment appreciated by sportsmen (and others...) such as the sauna or the gym... And of course all with the usual comfort level of the chalets managed by Cimalpes: multimedia equipment, fully equipped kitchens, large central fireplace, garage, spacious terrace with Nordic bath, open living room with large bay windows with a view onto the environment ... Discover Cimalpes' catalog of ski in ski out chalets in Courchevel and live your skiing holiday intensely but always at your rhythm.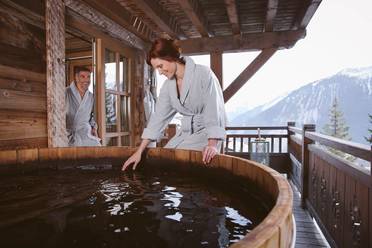 Chalet with spa, jacuzzi, sauna?
Everything is possible ! Many chalets in Courchevel offer one or more spas, jacuzzis, saunas, Nordic baths, indoors but also outside on large terraces to enjoy the scenery in the best conditions ... Do you like sports? Cimalpes offers chalets equipped with fitness rooms, gyms and spacious swimming spas to swim against the current in addition to skiing! Our Nordic outdoor baths are also an opportunity for you, your family and friends to enjoy the pleasure of a hot outdoor bath, facing the mountain. Set on a large private and sunny terrace, they will offer you an exotic and relaxing experience.
Are you looking for a chalet with jacuzzi, a chalet with spa, a chalet with sauna or all this at the same time? Discover the Cimalpes catalog and treat yourself to a holiday in Courchevel with no limits of fun!
Your catered chalet in Courchevel
Many chalets for rent in Courchevel offer either breakfast, half or full board service. Experienced chefs and maitres d'hôtel offer fine and authentic gastronomy. They make the most of the fresh produce to offer you qualitative menus, original or traditional, accompanied by an attentive and discreet service.
All our chefs and maitres d 'hôtel have a solid experience of the luxury hotel, with a perfect mastery of its codes they will offer you the best of the French art of living, while adapting to your specific requests.
"Let the Chef cook for you": discover Cimalpes' offer of catered chalet or half-board chalet in Courchevel or bed and breakfast. The French art of living... in the mountains. Contact our team to learn more and know all the possibilities of this à la carte and highly customizable service.
Cimalpes, the specialist of high-end accommodation in Courchevel
A long experience of accommodation in Courchevel, a dynamic team of children of the valley to offer you the best of Courchevel: Cimalpes offers you hundreds of properties for rent in exclusivity. Browse our offers of prestigious chalets and apartments rentals and give a new dimension to your stay in Courchevel, Méribel, Val d'Isère or Megève.
Whether you are looking for accommodation in Courchevel, Courchevel Le Praz, Courchevel Village or Courchevel Moriond, Cimalpes is able to offer you the luxury apartment, family chalet, prestigious chalet, chalet with spa or ski in ski out chalet you expect. You have not yet decided in which village of the resort to spend your holidays in? Let us advise you and describe the many assets of the villages of Courchevel. We will find for you the appropriate formula, for a holiday that will suit you and that will surprise you. Contact us for more information.