Chalet or apartment accommodation in Meribel: The Guide
The 5 resorts of Meribel for a large choice of accommodation
Today rentals in Meribel are possible upon the 5 village-resorts, which spread out at different altitudes along the Allues valley: Méribel Les Allues at 1 100 meters above sea level, Meribel Village at 1 400 meters above sea level, Meribel Center at 1 500 meters Meribel Les Hauts at 1 600 meters above sea level and finally Méribel-Mottaret at 1 750 meters above sea level.
Brides-Les-Bains, which is linked to the Meribel ski area via the Olympe gondola, also offers many possibilities of accommodation in the heart of a spa resort which has retained all its charm.
Accomodation at Meribel Les Allues: the original village
It is in the village of Les Allues that the project of Méribel began in 1936, today Meribel Les Allues encompasses the hamlets of Gittaz, Chandon, Cruet, Nantgerel, Plantin and Raffort. Méribel Les Allues is a succession of small villages, original villages that have preserved an authentic charm as well as many elements of patrimony: church, bread oven, barns.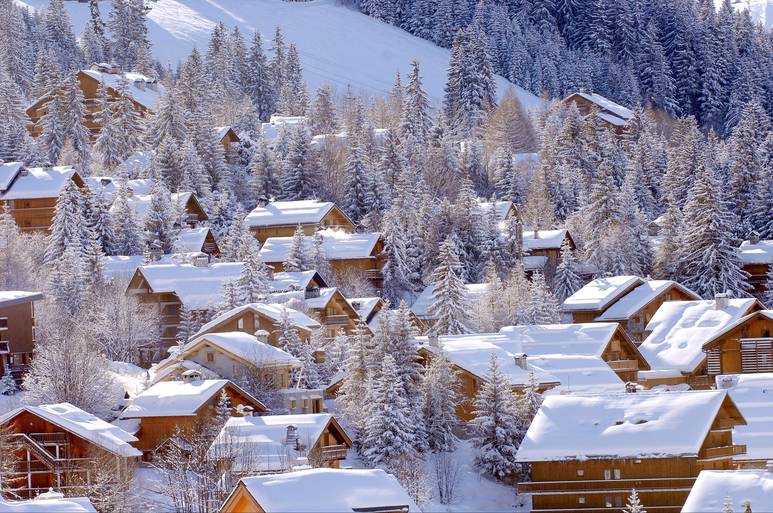 Narrow streets, original habitat: Meribel Les Allues is the place to choose for those who wish an accommodation in Meribel with an authentic and traditional atmosphere. Even if the resort has shops, bars, hotels and restaurants, Meribel Les Allues has the reputation of offering a calm unmatched by its neighbouring resorts.
With accommodation in Meribel Les Allues families and afficionados of postcard decor will find the ideal setting, without sacrificing the skiing experience since the resort is connected to the domain by the Olympe gondola and free shuttles. It also benefits from a return by ski with the slopes Village and Raffort.
Accomodation in Meribel Village: the alternative to Meribel Les Allues
Méribel Village is the most recent resort of Meribel, yet this resort located at 1400 meters above sea level started from the barns and sheepfolds that were located there for several centuries. There is also a chapel and a bread oven. True to its development policy, Meribel has made Meribel Village a chalet resort with authentic charm. Just like Meribel Les Allues, Meribel Village enjoys a calm favorable for rest and families.
Cimalpes is the only rental and real estate agency present in Meribel Village.
Meribel Village is located just about 2 km from Meribel Center. Particularly sunny, the village is organized around its central square, with all the necessary shops for everyday life, served by the chairlift of the Golf (arrival at the Altiport) and the blue ski slope of the Rabbits. Nightlife enthusiasts can enjoy a free shuttle bus that provides a nightly, continuous connection.
Choosing accommodation in Meribel Village means enjoying a modest, intimate resort surrounded by pine trees and offering a splendid panorama of the Allues valley.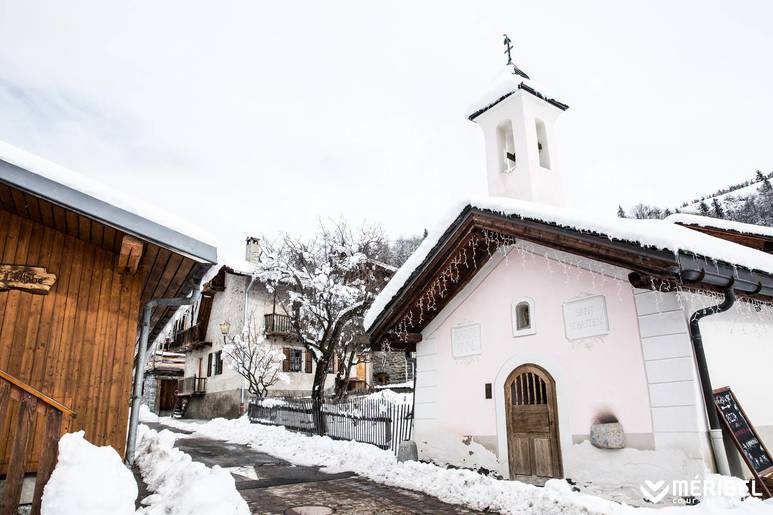 Accomodation in Meribel Center: the heart of the resort
Change of atmosphere in Meribel Center, which is the largest of the 5 resort villages of the valley and which enjoys a central position. You can find everything in Meribel Center: entertainment, shops, services and infrastructures. You want to have everything at hand: choose the accommodation in Meribel Center. You will enjoy the Olympic skating rink, the cinema, the swimming pool and the wellness area (spas, saunas, hammams, fitness, massages), a bowling alley and a climbing wall. Many of these installations are those of the 1992 Olympic Games.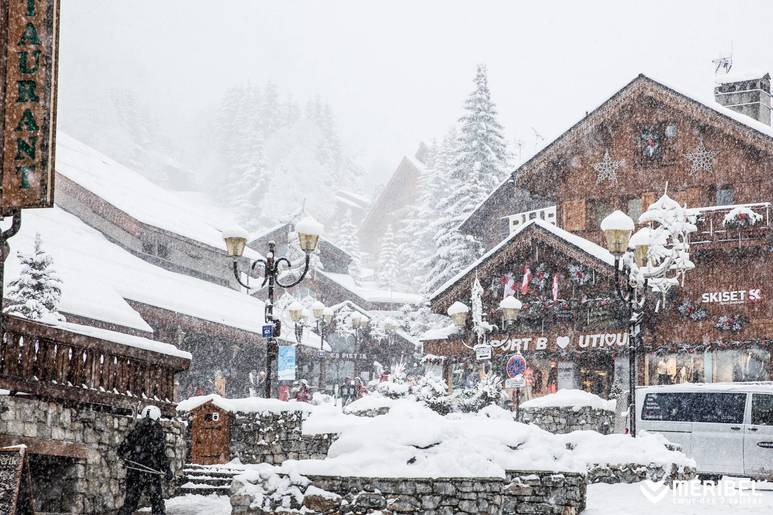 Meribel Center also offers a large number of restaurants, bars, nightclubs and shops, acticities and spas. The heart of life in the valley of the Allues, Meribel Center nevertheless benefits as its sisters from an architecture exclusively based on natural and traditional materials: stone, wood and lauze. It combines the effervescence of a large resort with the architectural beauty of its chalets and buildings.
Meribel Center spreads over a large area thus offering a wide variety of accommodation, from the liveliness of the center to the more intimate quiet of its districts such as Mussillon, La Renarde, Le Plateau, Morel-Altitude 1 600, Le Plan du Moulin. Intimate neighborhoods hidden in the heart of the woods or activities at La Chaudanne and the town center, everything is possible for your accommodation in Meribel Center. You just have to choose!
Accomodation in Meribel Les Haut: staying in the heights
Meribel Les Hauts encompasses the districts erected overlooking Meribel Center: The Rond Point, the famous Altiport, the Plateau, the Belvedere and the Domaine de Burgin. If you choose a rental in Meribel Les Hauts you will enjoy a panoramic view of the massifs, the valley and the resorts of Meribel.
Choosing your accommodation in Meribel les Hauts also means offering you the possibility of magnificent walks from the different districts. Nestled in the pine trees, Meribel les Hauts offer numerous itineraries of walks and northern hikes with gentle slopes. Here nature is queen! If the Rond Point and the Plateau are relatively lively, the other neighborhoods like the Belvedere or the Altiport are very quiet, ideal for a relaxing stay.
With accommodation in Meribel les Hauts you will also have easy access to the ski area, all the neighborhoods are lined with ski slopes and the ski lifts are never far away. A rental in Meribel les Hauts seems particularly suitable for those who wish to combine skiing and walking, for lovers of beautiful view and contemplation, while maintaining a quick access to Meribel Center. A choice of connoisseur!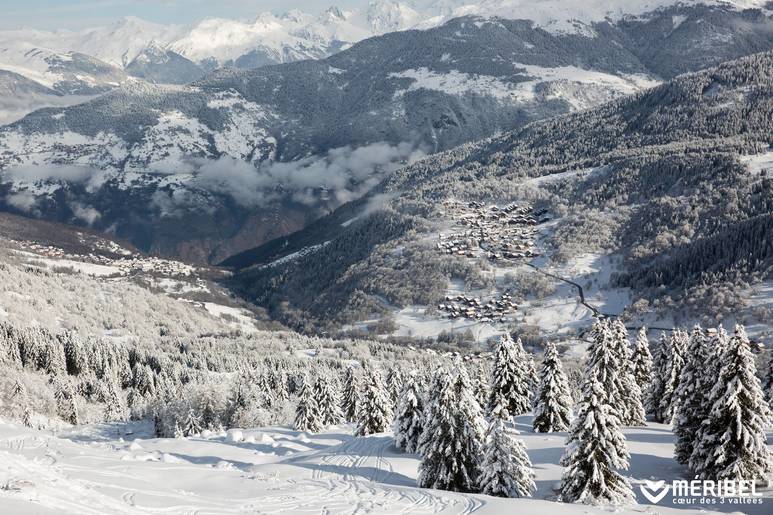 Accomodation in Meribel-Mottaret: skiing before all!
Skiing is your priority, you want to explore the area of Meribel and the 3 Valleys and make the most of the possibilities offered to you? Want to save time with a privileged location in the heart of this vast area of 600 km of slopes, fast access to large ski lifts that allow transfer from one valley to another and access to the highest peaks? Renting in Meribel-Mottaret is for you!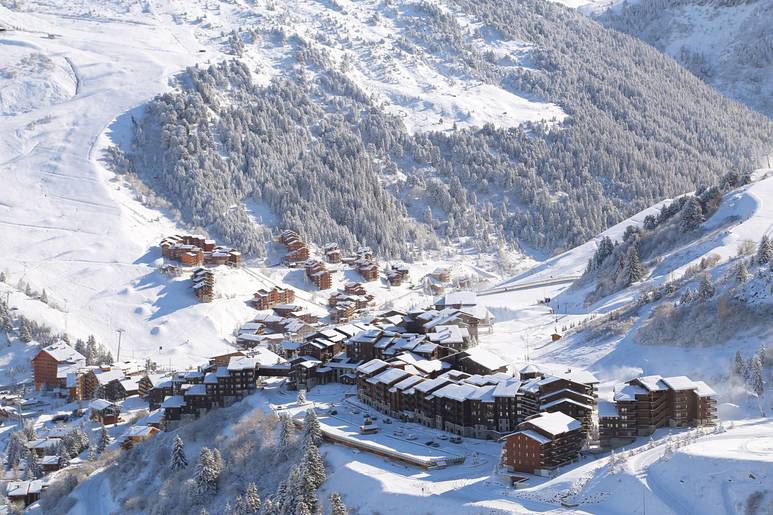 Meribel-Mottaret, the heart of the 3 Valleys, is ideally located at 1 750 meters above sea level in the center of the connected domain and has direct access to major connections such as the Plattières or Pas du Lac cable cars. The resort also has an internationally renowned snowpark. Everything is done in Meribel-Mottaret for ski-in access to accommodation.
For your rental in Meribel-Mottaret you can opt for the district of Chatelet, which benefits from a generous sun light or for the district of Laitelet, the biggest one, which benefits from a consequent offer of services, shops, bars, restaurants and discotheques .
Your apartment accomodation in Meribel
With its preserved setting and traditional architecture, Meribel attracts a demanding clientele and has developed a high-quality real estate offering for rental and for sale. This is why you will find, on the 5 village resorts of Meribel, a complete offer of high-end and luxury apartments.
What do you expect from an apartment of standing in Meribel? You will find in Cimalpes' catalog apartments located in high quality residences, spacious apartments, bright, carefully decorated and very well equipped.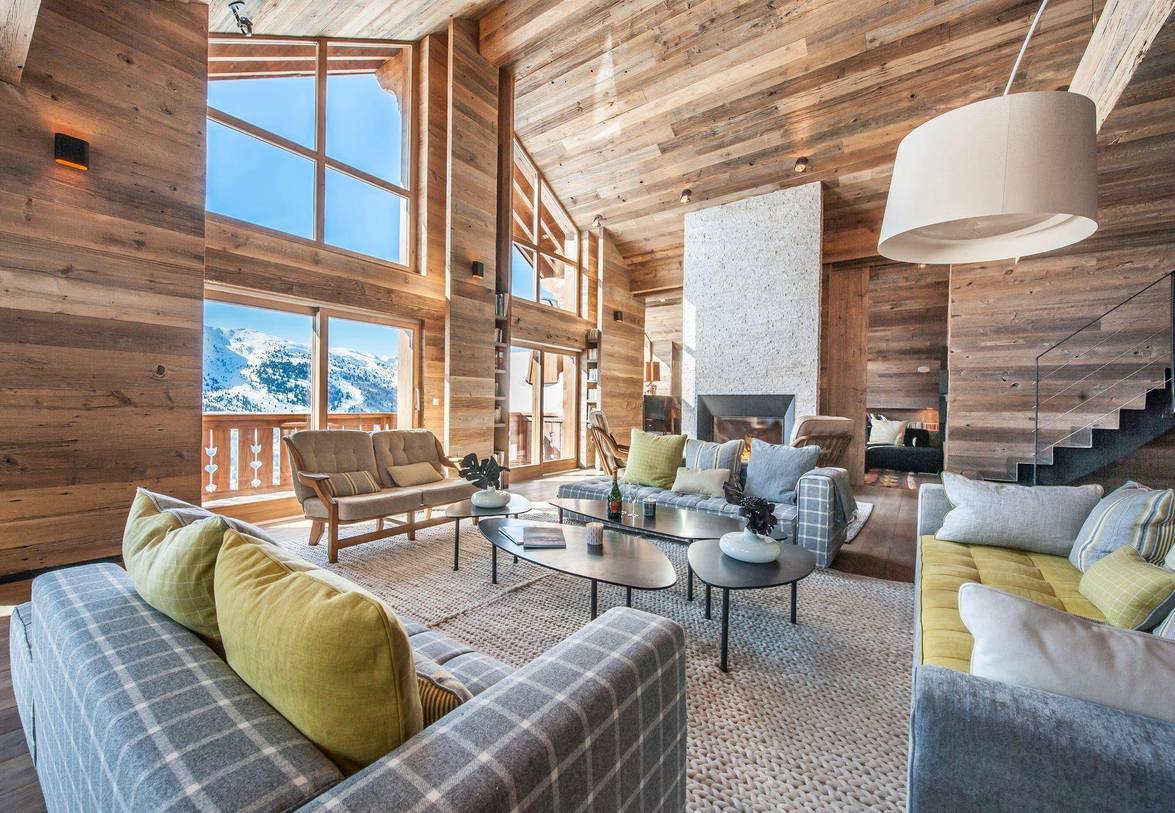 Discover our cosy apartments with a fireplace delivering a warm atmosphere in the spacious living room, where wood and noble materials are used to enhance the space. A refined decoration blends with quality furniture, the balconies and terraces offer generous spaces and a nice view on the massifs. With Cimalpes you may also find in your apartment in Meribel spacious bathroom and equipped with a balneotherapy bath to relax after the ski.
Your apartment rental in Meribel with Cimalpes is also about the service: you will find beds impeccably prepared on your arrival as well as all the linen necessary including towels, welcome products and slippers for a better comfort during your stay. Opt for an apartment rental in Meribel with Cimalpes and make your stay a moment of comfort and refinement.
Ski chalet rental in Meribel: a large choice
In Meribel the chalet is king and Cimalpes its best ambassador. Are you looking for a ski chalet, a family chalet, a traditional chalet or a chalet with spa? We have the right offer! With a large catalog of prestigious chalets in Meribel, you will certainly find the right offer for your needs and preferences.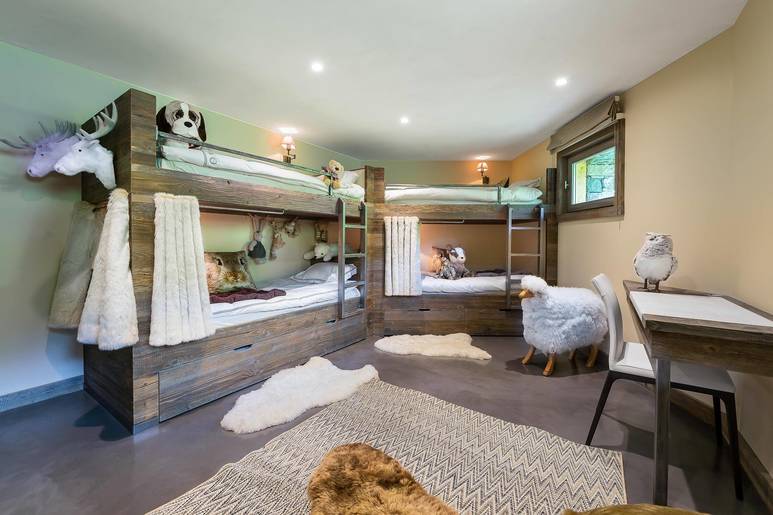 Family chalet, ski in ski out chalet, spa chalet... in Meribel, you will find your chalet
Looking for a family chalet, a chalet on the slopes to get the most out of the skiing experience, a chalet with a spa to relax after skiing? In Meribel everything is possible and Cimalpes opens you the doors to the most beautiful properties of the Alps.
With chalets of varying capacity for surfaces up to 500 sq.m., you will certainly find the family chalet you are looking for, whatever the size of your tribe. Ensuite bedrooms for parents, games rooms for children, a spacious ski room to facilitate everyday life, everything is planned for the happiness of the entire family! Discover our catalog of family chalets in Meribel to convince you.
Your moutain chalet in Meribel with Cimalpes
With its rehabilitated barns and chalets of traditional inspiration, its constructions of regional stone, wood and lauze, Meribel is the ideal resort for those looking to rent a mountain chalet. Discover the Cimalpes catalog of chalets of varying surfaces and capacities, luxury chalets which have for common point a refined decoration, numerous equipment and an excellent level of comfort.
With a luxury chalet rental in Meribel you will enjoy a room of life with impressive volume, with large picture windows open on the landscape and a central fireplace which distils a mountain atmosphere and warmth. Our luxury chalets in Méribel feature ensuite bedrooms and games rooms for children.
Finally, and according to your aspirations, choose your chalet in Meribel according to the facilities that will please you: spa, hammam, sauna, counter-current swim ming pool, nordic outdoor bath, gym... Your chalet is also fully connected and has state-of-the-art multimedia facilities. Give yourself a different experience for your ski holidays or in summer with Cimalpes, discover our offer of moutain chalets in Meribel and let yourself be surprised!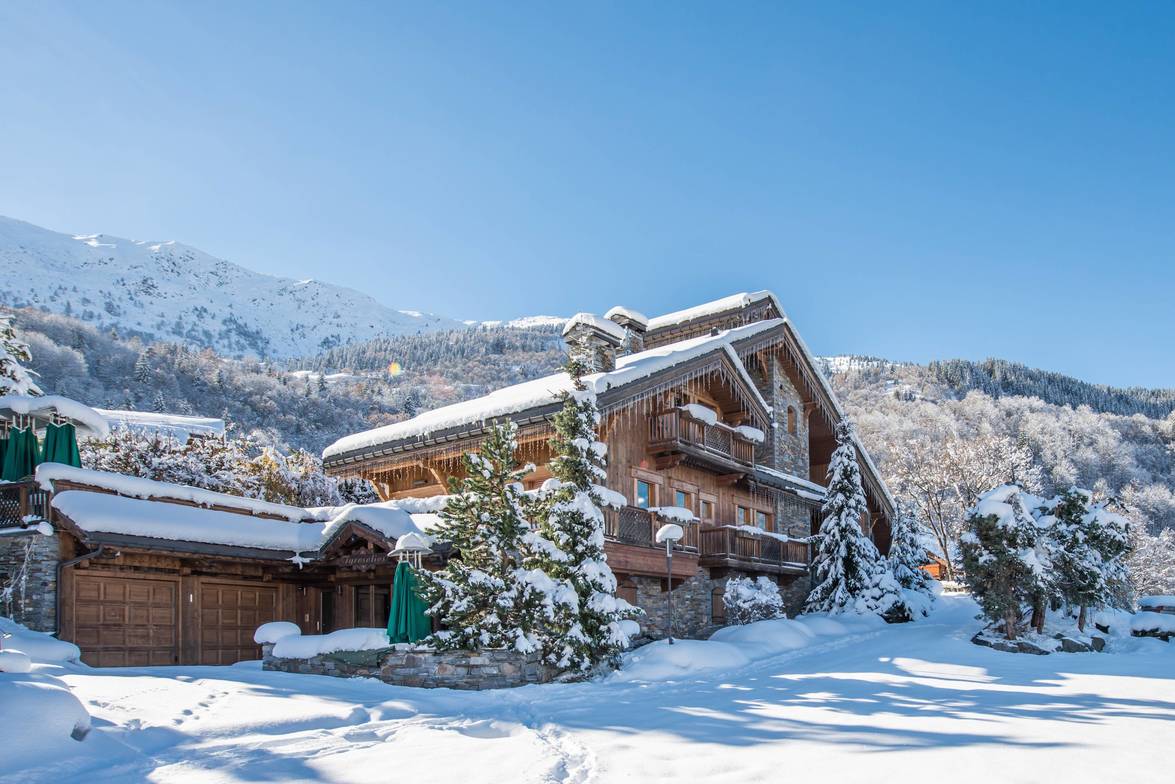 Looking to rent a traditional chalet in Meribel?
Wooden beams, a combination of wood and stone, traditional Savoyard furniture of high quality, snowshoes and old skis hung on the wall, a sledge, a farm saw, old utensils... Welcome to your traditional chalet in Meribel!
An old barn rehabilitated or recently built, our decorators and architects know how to translate the Savoyard spirit that has always animated our valleys over the decades. Discover this spirit during your stay with a traditional moutain chalet rental in Meribel: change of scenery assured!
Of course the comfort is also part of these chalets, which can feature an elevator, garages, bar, fully equipped kitchen, comfortable terraces... Discover the offer of traditional mountain chalets in Meribel with Cimalpes: many properties in exclusivity among which you will certainly find the offer tailored to your needs, and even more!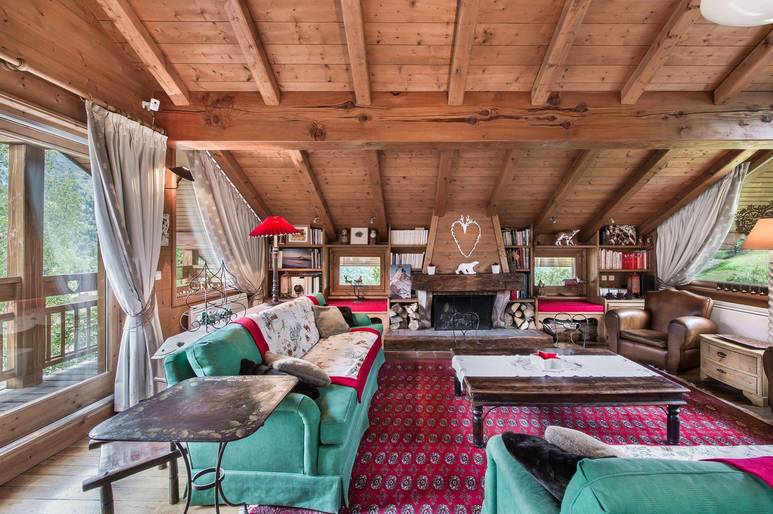 Would you like to enjoy the pleasures of skiing with maximum accessibility and comfort?
Cimalpes offers you a complete selection of ski in ski out chalets in Meribel. They will allow you to ski and take a break at any time of the day, as many times as you wish. Opt for a chalet rental on the ski slopes in Meribel and make the most of what the 3 Valleys has to offer: enormously!
We propose many chalets equiped with spas, hammams, jacuzzis, sauna, event an outdoor hot tub. Are you looking for a spa chalet? Let Cimalpes guide you through our selection of spa chalets in Meribel, so that the relaxation is total ...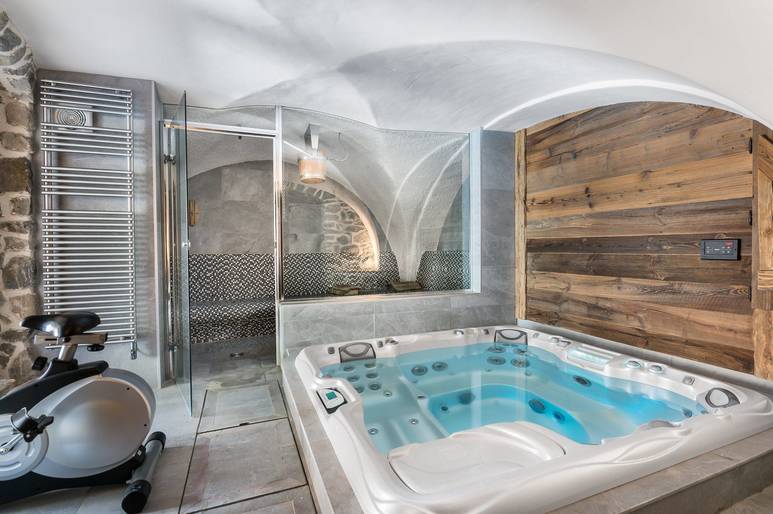 Cimalpes, the specialist in apartment and chalet rentals in Meribel
With a team composed of children of the Valley and a real expertise in high-end real estate and hospitality, Cimalpes is your preferred partner for your apartment or chalet rental in Meribel. Contact our team to find out more and let us surprise you with our professionalism, our sense of welcome and the wealth of our offer.