Chalet Amnesia
and its surroundings
The ski in ski out chalet Amnesia is located on the slopes of Courchevel Moriond (1650). Entirely white inside, this legendary chalet is renowned in the resort.
This ski in ski out chalet was renovated in 2014 by architect Remi Giffon who surprised us by his strong sharp contrast between the traditional exterior and white interior atmosphere with refined decoration that makes this project a unique chalet of its kind. The outside of the chalet has been preserved in its true mountain style.
Rémi Giffon has performed work many times in order to give new life to this ski in ski out chalet like creating a unique staircase that serves all four levels of the chalet or the addition of two Jacobin style dormer windows to give a true parental space on the top floor of the chalet.
The interior was completely redesigned, the quality of this project lies in the high level of details and finishes. The interior of the chalet Amnesia is a pristine jewel in white timber in a warm and comfortable atmosphere. The furniture is in a chic and contemporary style.
Many elements and decorations come from the interior design, such as the sublime rectangular glass dining table, large beige leather corner sofa or many lacquered furniture items.
Enjoy spacious and numerous upscale amenities offered by the chalet Amnesia. This ski-in / ski-out chalet on the piste hosts ten people in five en suite bedrooms. The level of performance and service of the chalet Amnesia is in fact a haven five stars in Courchevel 1650. Its magnificent master bedroom on the top floor of the chalet, its wellness area with Jacuzzi and terrace facing South West amongst the fir trees will delight its occupants.
With family or friends, you will love this ski in ski out chalet in Courchevel Moriond situated on the slopes. Its architecture, decor and upscale amenities associated with quality of service offered by the reputed Cimalpes will guarantee you unforgettable holidays in the Alps.
Chalet Amnesia is a ski in ski out chalet 100m from the centre and right on the slopes of Moriond.
LOCATION
Distance from the center : 100 m
Closest ski slope : Belvedere
Distance from the slopes : 0 m
Distance to ski school : 100 m
Closest ski lift : Ariondaz
Distance from ski lift : 100 m
Coordinates
Latitude : 45.415858
Longitude : 6.655181
RESORT ACCESS
Courchevel altiport : 11min / 5km
Megeve altiport : 1h / 90km
Chambery airport : 1h / 108km
Geneva airport : 2h / 192km
Lyon airport : 2h / 185km
Albertville train station : 50min / 50km
Bourg Saint Maurice train station : 55min / 50km
Chambery train station : 1h / 192km
Lyon train station : 2h / 200km
Moutier train station : 35min / 25km
Sallanches train station : /
Cimalpes Services :

Catering

*Subject to the availability of the staff.

Indicative price, for a 7-day booking for 8 people.

Half board does not include food.

Breakfast service
Managed by a housekeeper - 2h30 per day
1 925 €

Half board service
Managed by a chef - 9h30 per day
7 breakfast + 7 lunchs or 7 breakfasts + 7 dinners
3 150 € - Food and drinks not included
By selecting your catering, you have the possibility to add additionnal services
Welcome
---
Reception at the chalet
Slippers
Gourmet welcome basket
Champagne (in winter only)
Fresh flowers (in winter only)
Housekeeping & Linens
---
End of stay cleaning
Linens (towels and sheets)
Beds made on your arrival
Daily cleaning
Good to know
---
Animals not permitted
Smoking not permitted
Additional fees
Tourist tax
The food for the preparation of the meal(s) will be invoiced as an extra
Staff
HOUSEKEEPER : 5h/day
Equipements
Multimedia
---
Sky
TV
International channels
DVD player
General equipments
---
Garage
Ethanol fireplace
Parking space
Boots heater
Safe
Household appliance
---
Coffee machine
Microwave
Fridge
Freezer
Fondue appliance
Vaccum
Ironing board
Toaster
Induction hob
Dishwasher
Washing machine
Dryer
Oven
Floor -1
Italian style shower
Indoor jacuzzi
Sauna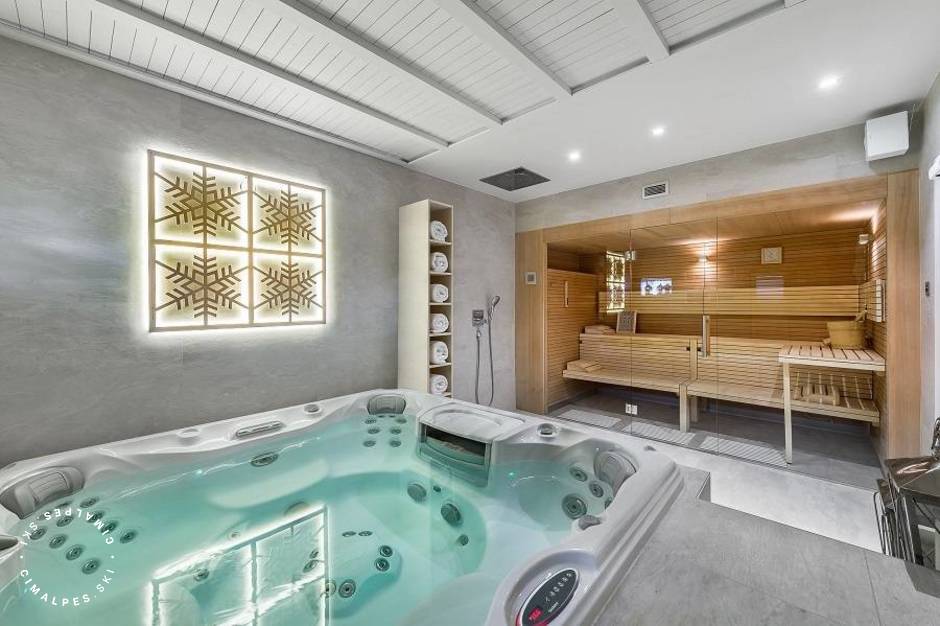 Floor 1
You will enjoy the surrounding setting in cold winter evenings in the outdoor Jacuzzi !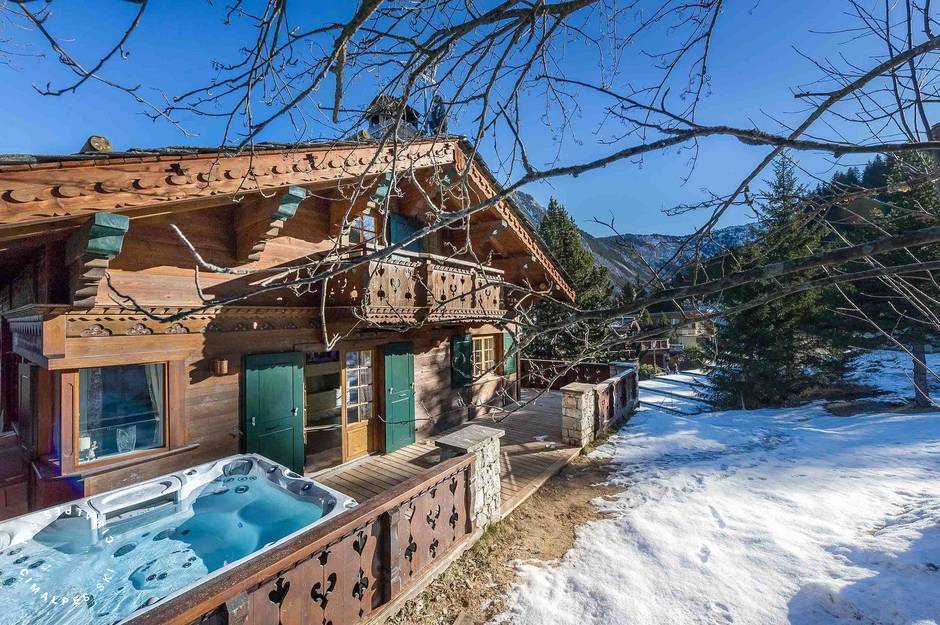 Winter 2020/21
You wish to add a catering service ?
Catering
*Subject to the availability of the staff.
Indicative price, for a 7-day booking for 8 people.
Half board does not include food.
Breakfast service
Managed by a housekeeper - 2h30 per day
1 925 €

Half board service
Managed by a chef - 9h30 per day
7 breakfast + 7 lunchs or 7 breakfasts + 7 dinners
3 150 € - Food and drinks not included
Arrival date
Departure date
Price
December 2020
05/12/2020
12/12/2020
8 000 €
Book
12/12/2020
19/12/2020
8 000 €
Book
19/12/2020
26/12/2020
25 500 €
Book
26/12/2020
02/01/2021
32 500 €
Book
January 2021
02/01/2021
09/01/2021
25 500 €
Book
09/01/2021
16/01/2021
13 000 €
Book
16/01/2021
23/01/2021
13 000 €
Book
23/01/2021
30/01/2021
13 000 €
BOOKED
BOOKED
30/01/2021
06/02/2021
17 000 €
Book
February 2021
06/02/2021
13/02/2021
17 000 €
Book
13/02/2021
20/02/2021
17 000 €
BOOKED
BOOKED
20/02/2021
27/02/2021
17 000 €
Book
27/02/2021
06/03/2021
17 000 €
Book
March 2021
06/03/2021
13/03/2021
13 100 €
Book
13/03/2021
20/03/2021
13 100 €
Book
20/03/2021
27/03/2021
13 100 €
Book
27/03/2021
03/04/2021
8 000 €
Book
April 2021
03/04/2021
10/04/2021
8 000 €
Book
10/04/2021
17/04/2021
8 000 €
Book
17/04/2021
24/04/2021
8 000 €
Book