Chalet Les Bastidons
and its surroundings
The Chalet Bastidons is located on the edge of the Plantret slope in the very sought after area Chenus, making part of the Hameau de la Volière, a group of three ultimate luxury chalets not far from the centre of Courchevel 1850. The Chalet 'Bastidons', famous in Courchevel, not only for its natural beauty but its renown: one of the biggest chalets built in past years.
The ultimate luxury chalet Bastidons overlooks the valley, with stunning panoramic views of the surrounding peaks of the Bellecôte glacier. The contemporary design, sleek and cozy brings a unique ambiance that reminds you that you are in Courchevel.
The living room is very cozy and was designed by architect Christophe Tollemer, as all three chalets of Vollière have, which were built in a spirit which is unique to each of these ultimate luxury chalets.
The fireplace made of grey stone and light wood warms the room during the long winter evenings while the large convertibles sofas and armchairs of wood and beige fabric are the gathering place for the occupants of the chalet after a day of skiing.
The numerous furniture, lamps and other decorative elements were custom made ??for the ultimate luxury chalet Bastidons, like the large oval wooden table in the dining room, the Savoyard bench in the lounge decorated in cowhide but especially the huge wrought iron metal branch that grows from the bottom of the chalet to the full height and welcomes a porcelain birds aviary.
The level of performance and service of the chalet Bastidons is a true five star refuge for up to 12 people. The master bedroom of the chalet represents what is best in Courchevel: a blending of linen and wood covers the walls, furniture is made to measure - the room houses a lounge, a bathroom with shower and bath as well as a stylish dressing in which the purists will appreciate all of the black velvet hangers.
This ultimate luxury chalet is also equipped with a private ski room and a wellness area with pool, spa and gym. The level of service offered by the chalet Bastidons and Cimalpes is worthy of the most prestigious hotel establishments: chef, butler, driver, ski lessons, massage ... Everything is done to make you spend an unforgettable stay.
The chalet 'Bastidons' seduces a demanding clientele accustomed to the best service and sensitive to the interior design. This ultimate luxury chalet in Courchevel is emblematic: a week at chalet Bastidons will be like no other.
The chalet Bastidons is located along the Plantret ski slope in the Chenus area of Courchevel 1850, a few meters from the center of Courchevel.
LOCATION
Distance from the center : 200 m
Closest ski slope : Plantret
Distance from the slopes : 0 m
Distance to ski school : 200 m
Closest ski lift : Plantret
Distance from ski lift : 25 m
Coordinates
Latitude : 45.417083
Longitude : 6.629472
RESORT ACCESS
Courchevel altiport : 11min / 5km
Megeve altiport : 1h / 90km
Chambery airport : 1h / 108km
Geneva airport : 2h / 192km
Lyon airport : 2h / 185km
Albertville train station : 50min / 50km
Bourg Saint Maurice train station : 55min / 50km
Chambery train station : 1h / 192km
Lyon train station : 2h / 200km
Moutier train station : 35min / 25km
Sallanches train station : /
Welcome
---
Reception at the chalet
Firewood
Slippers
Fresh Flowers
Bathrobe
Gourmet welcome basket
Toiletry products in each bathroom
Champagne
Housekeeping & Linens
---
End of stay cleaning
Linens (towels and sheets)
Daily cleaning
Change of linens in the middle of your stay
Catering
---
Chef for tea time
Chef for breakfast
Chef for lunch or dinner
Soft drinks
Good to know
---
Animals not permitted
Smoking not permitted
Additional fees
Tourist tax
The food for the preparation of the meal(s) will be invoiced as an extra
Alcoholic drinks
Possible house staff overtime
Staff
CHEF : 8am-11am / 12pm-4pm / 7pm-9:30pm
HOUSEKEEPER : 9am-3pm / 5pm-7:30pm
CHAUFFEUR : 9am-9pm
BUTLER : 8am-11am / 12pm-2pm / 4pm-10:30pm
Equipements
Multimedia
---
Wifi
Printer
Apple TV
Computer
DVD player
Russian channels
General equipments
---
Elevator
Garage
Wood fireplace
Ski locker
Parking space
Boots heater
Pool table
Safe
Piano
Baby cot
High chair
Baby bath
Household appliance
---
Microwave
Microwave & oven combination
Fridge
Raclette machine
Fondue appliance
Vaccum
Nespresso
Iron
Device with grill-stone
Kettle
Toaster
Refrigerate wine cellar
Induction hob
Dishwasher
Washing machine
Dryer
Floor -2
The 3 bedrooms of this floor have an access to the terrace with jacuzzi.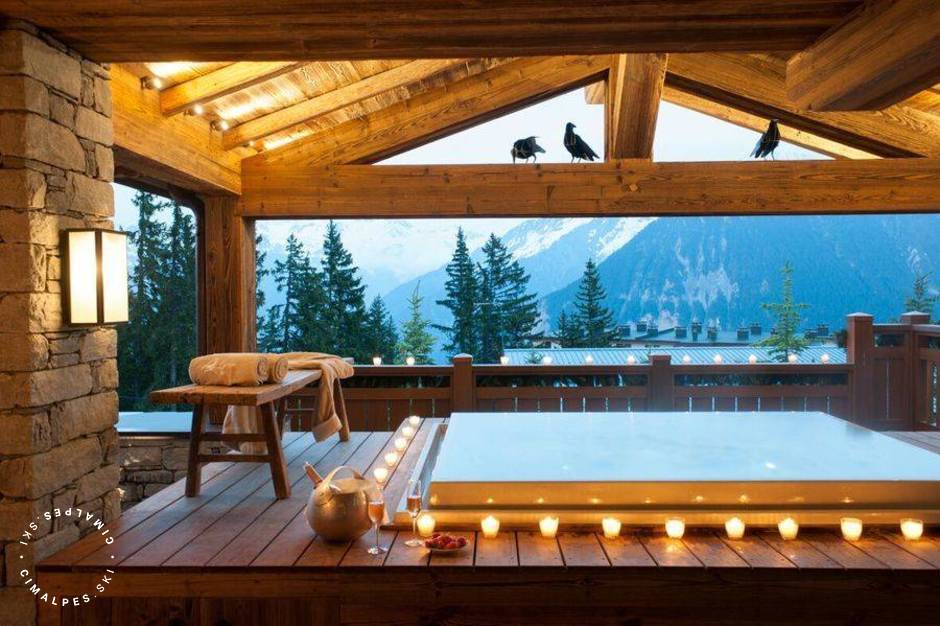 Floor -3
A secret room is on this floor, being a playroom and home cinema area : relax in this original room including a library, a snooker and a desk with computer and printer.
Floor -4
The relaxing area includes a swimming pool, a jacuzzi, a massage room, a fitness room as well as a sauna, hammam, showers, locker and bar.
Hammam
Indoor jacuzzi
Swimming pool
Fitness room
Weight bench
Dumbbells
Running machine
Exercise bike
Crosstrainer
Massage room
Sauna
Winter 2020/21
Arrival date
Departure date
Price
December 2020
05/12/2020
12/12/2020
65 000 €
BOOKED
BOOKED
12/12/2020
19/12/2020
65 000 €
Book
19/12/2020
26/12/2020
90 000 €
Book
26/12/2020
02/01/2021
130 000 €
Option
Option Option
January 2021
02/01/2021
09/01/2021
90 000 €
Option
Option Option
09/01/2021
16/01/2021
80 000 €
Book
16/01/2021
23/01/2021
80 000 €
Book
23/01/2021
30/01/2021
80 000 €
Book
30/01/2021
06/02/2021
80 000 €
BOOKED
BOOKED
February 2021
06/02/2021
13/02/2021
85 000 €
BOOKED
BOOKED
13/02/2021
20/02/2021
125 000 €
Book
20/02/2021
27/02/2021
100 000 €
Book
27/02/2021
06/03/2021
100 000 €
BOOKED
BOOKED
March 2021
06/03/2021
13/03/2021
85 000 €
BOOKED
BOOKED
13/03/2021
20/03/2021
80 000 €
Book
20/03/2021
27/03/2021
80 000 €
Book
27/03/2021
03/04/2021
80 000 €
Book
April 2021
03/04/2021
10/04/2021
65 000 €
Book
10/04/2021
17/04/2021
65 000 €
Book
17/04/2021
24/04/2021
65 000 €
Book