Chalet Sisimiut
and its surroundings
Take place out of time and discover the atypical character of the luxury chalets of the Hamlet of Marcandou. A privileged area where the soul of the mountains flirts with the truth of authentic Courchevel, the Hamlet of Marcandou ensures a real enchantment and offers an unusual dimension to well-being.
The unique atmosphere of the five-star Chalet Sisimiut and Ilulissat combines softness, charm, and fantasy, offering a breathtaking view of the surrounding mountains. The contemporary and singular architecture of each chalet combines - with elegance - audacity, and tradition, as their decoration where modernity, vintage touches, and unusual details intersect with finesse. Escape, tranquility, and voluptuousness: Beyond traditional luxury, here you are elsewhere.
Sisimiut is a chalet of 400 sq.m. - on 3 levels - which can accommodate 10 to 14 guests. Each of its 5 bedrooms is a true bliss and offers a sensational poetic universe. This phenomenal chalet surprises with its exceptional volumes and its breathtaking view of the surrounding mountains.
The latest addition to the Hamlet of Marcandou, the Chalet Sisimiut reveals a subtle alliance of high-end materials, traditional coatings and objects found throughout the world. It perfectly combines imaginary landscapes, scenes of greenery and other oversized impressions. From room to room, the games of perspectives and the harmonies of colors parade with enchantment in an elegant and warm atmosphere.
Beyond the comfortable hammam, the Sisimiut pool in / out allows baths and massages under the starry sky, in a snow-covered landscape.
LOCATION
Distance from the center : 500 m
Closest ski slope : Front de Neige / Snow Front
Distance from the slopes : 500 m
Distance to ski school : 500 m
Closest ski lift : Grangettes
Distance from ski lift : 500 m
Coordinates
Latitude : 45.425306
Longitude : 6.641167
RESORT ACCESS
Courchevel altiport : 11min / 5km
Megeve altiport : 1h / 90km
Chambery airport : 1h / 108km
Geneva airport : 2h / 192km
Lyon airport : 2h / 185km
Albertville train station : 50min / 50km
Bourg Saint Maurice train station : 55min / 50km
Chambery train station : 1h / 192km
Lyon train station : 2h / 200km
Moutier train station : 35min / 25km
Sallanches train station : /
Cimalpes Services
Private shuttle to access the chairlift in Courchevel Village - possible to go to Courchevel in extra
Welcome
---
Reception at the chalet
Firewood
Slippers
Bathrobe
Gourmet welcome basket
Basket needed on arrival: Dishwasher tablets, sponge, multi-surface products, etc.
Champagne (in winter only)
Housekeeping & Linens
---
End of stay cleaning
Linens (towels and sheets)
Beds made on your arrival
Change of linens in the middle of your stay (in winter only)
Daily cleaning
Catering
---
Breakfast service
Continental or English breakfast
Good to know
---
Animals not permitted
Smoking not permitted
Additional fees
Tourist tax
Possible house staff overtime
Staff
HOUSEKEEPER : 4h/day
: Private shuttle to the Courchevel Village ski lifts
Equipements
Multimedia
---
Wifi
TV
International channels
Fiber
General equipments
---
Wood fireplace
Ski locker
Parking space
Boots heater
Safe
Household appliance
---
Coffee machine
Microwave
Fridge
Vaccum
Ironing board
Iron
Kitchen exhaust hood
Kettle
Toaster
Dishwasher
Washing machine
Dryer
Oven
Floor -1
Relaxation area
Hammam
Fitness room
Massage room
Level 0
Enjoy an in and out swimming pool.
Relaxation area
Swimming pool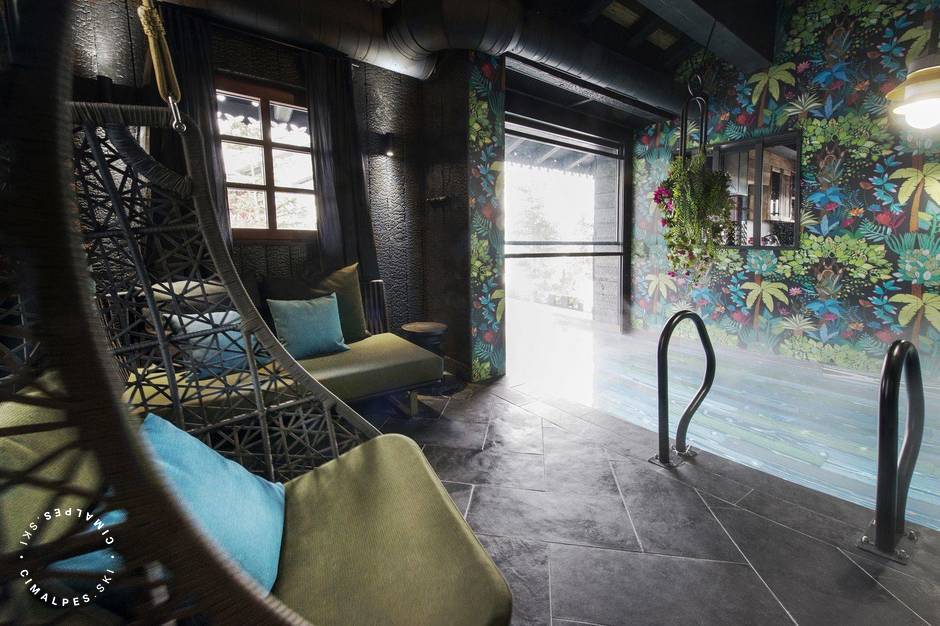 Winter 2020/21
Arrival date
Departure date
Price
December 2020
05/12/2020
12/12/2020
16 900 €
Contact us
12/12/2020
19/12/2020
16 900 €
Contact us
19/12/2020
26/12/2020
19 800 €
BOOKED
BOOKED
26/12/2020
02/01/2021
33 600 €
BOOKED
BOOKED
January 2021
02/01/2021
09/01/2021
24 200 €
Contact us
09/01/2021
16/01/2021
19 800 €
Contact us
16/01/2021
23/01/2021
19 800 €
Contact us
23/01/2021
30/01/2021
19 800 €
Contact us
30/01/2021
06/02/2021
19 800 €
Contact us
February 2021
06/02/2021
13/02/2021
24 200 €
Contact us
13/02/2021
20/02/2021
24 200 €
BOOKED
BOOKED
20/02/2021
27/02/2021
24 200 €
BOOKED
BOOKED
27/02/2021
06/03/2021
24 200 €
Contact us
March 2021
06/03/2021
13/03/2021
19 800 €
Contact us
13/03/2021
20/03/2021
19 800 €
Contact us
20/03/2021
27/03/2021
19 800 €
Contact us
27/03/2021
03/04/2021
19 800 €
Contact us
April 2021
03/04/2021
10/04/2021
16 900 €
Contact us
10/04/2021
17/04/2021
16 900 €
Contact us
17/04/2021
24/04/2021
16 900 €
Contact us