Chalet Les Voutes
and its surroundings
Discover the incredible Chalet Les Voûtes nestled in the hamlets of Meribel. This chalet features a contemporary decoration with 340 sq.m spread over 4 levels and it can accommodate up to 10 adults with its 5 en-suite bedrooms.
On the ground floor, a large relaxation area awaits you: billiards, bar, large cozy armchairs, and an outdoor Jacuzzi located on the terrace where you can admire the view of the Dent de Burgin. You will also find three bedrooms and bathrooms at this level.
Upstairs, you will be impressed by its very spacious living room with contemporary furniture and upscale. In the centre of the room, a specially designed fireplace surrounded by comfortable sofas and chairs as well as soft carpets and cushions that instill a cozy and zen atmosphere. Large bay windows line the entire living room, allowing the maximum amount of light to enter. At the back of the room is an original dining room with a long wooden table and impressive suspended lights. The kitchen is one of the most modern and chic pieces. It is equipped with a large central black and white worktop, very trendy, as well as many equipment. The kitchen is an important part of the chalet, it is also a place to meet with guests or family to chat peacefully.
The Chalet Les Voûtes has the particularity of being located 350 meters from the gondola of l'Olympe which will take you quickly into the centre of Méribel: the ideal chalet for a friendly stay with its relatives.
Located in the village of Le Raffort, just minutes from thecOlympus gondola to access the departure of the slopes of Chaudanne and the gathering of ski schools. Free shuttle every 15 minutes from 7:35 am to 11:30 pm that will you in the centre of Méribel and its shops. Return by ski just a few minutes from the chalet from the ski slope Le Raffort.
LOCATION
Distance from the center : 2200 m
Closest ski slope : Itinéraire du Raffort
Distance from the slopes : 260 m
Distance to ski school : 2900 m
Closest ski lift : Télécabine de l'Olympe
Distance from ski lift : 350 m
Coordinates
Latitude : 45.409145
Longitude : 6.558081
RESORT ACCESS
Courchevel altiport : /
Megeve altiport : /
Chambery airport : /
Geneva airport : /
Lyon airport : /
Albertville train station : /
Bourg Saint Maurice train station : /
Chambery train station : /
Lyon train station : /
Moutier train station : /
Sallanches train station : /
Cimalpes Services :

Catering

*Subject to the availability of the staff.

Indicative price, for a 7-day booking for 8 people.

Half board does not include food.

Breakfast service
Managed by a housekeeper - 2h30 per day
1 500 €

Half board service
Managed by a chef - 9h30 per day
7 breakfast + 7 lunchs or 7 breakfasts + 7 dinners
3 200 € - Food and drinks not included
By selecting your catering, you have the possibility to add additionnal services
Welcome
---
Reception at the chalet
Firewood
Slippers
Bathrobe
Gourmet welcome basket
Toiletry products in each bathroom
Housekeeping & Linens
---
End of stay cleaning
Linens (towels and sheets)
Daily cleaning
Good to know
---
Animals not permitted
Smoking not permitted
Equipements
Cuisine fonctionnelle et bien équipée.
Multimedia
---
Wifi
TV
Apple TV
SONOS speaker
General equipments
---
Wood fireplace
Ski locker
Parking space
Board games
Boots heater
Safe
Baby cot
High chair
Household appliance
---
Microwave
Fridge
Freezer
Raclette machine
Fondue appliance
Vaccum
Ironing board
Nespresso
Iron
Kitchen exhaust hood
Kettle
Toaster
Kitchen robot
Sodastream
Induction hob
Dishwasher
Washing machine
Dryer
Oven
Ground Floor
Bar
Snooker
Outdoor jacuzzi
Lounge with TV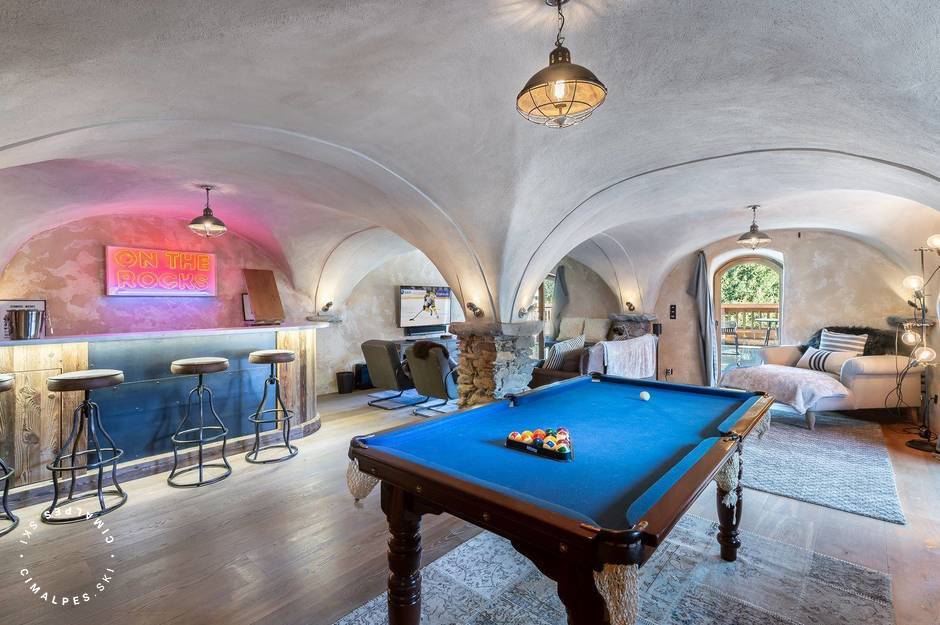 Level 3
Winter 2020/21
You wish to add a catering service ?
Catering
*Subject to the availability of the staff.
Indicative price, for a 7-day booking for 8 people.
Half board does not include food.
Breakfast service
Managed by a housekeeper - 2h30 per day
1 500 €

Half board service
Managed by a chef - 9h30 per day
7 breakfast + 7 lunchs or 7 breakfasts + 7 dinners
3 200 € - Food and drinks not included
Arrival date
Departure date
Price
December 2020
05/12/2020
12/12/2020
7 900 €
Book
12/12/2020
19/12/2020
7 900 €
Option
Option Option
19/12/2020
26/12/2020
12 900 €
Option
Option Option
26/12/2020
02/01/2021
21 400 €
BOOKED
BOOKED
January 2021
02/01/2021
09/01/2021
9 800 €
Book
09/01/2021
16/01/2021
8 900 €
Book
16/01/2021
23/01/2021
8 900 €
Book
23/01/2021
30/01/2021
8 900 €
Book
30/01/2021
06/02/2021
8 900 €
Book
February 2021
06/02/2021
13/02/2021
10 700 €
Book
13/02/2021
20/02/2021
15 200 €
Option
Option Option
20/02/2021
27/02/2021
12 000 €
Book
27/02/2021
06/03/2021
10 700 €
Book
March 2021
06/03/2021
13/03/2021
9 800 €
Book
13/03/2021
20/03/2021
8 900 €
BOOKED
BOOKED
20/03/2021
27/03/2021
8 900 €
Book
27/03/2021
03/04/2021
7 900 €
Option
Option Option
April 2021
03/04/2021
10/04/2021
7 900 €
Option
Option Option
10/04/2021
17/04/2021
7 900 €
Option
Option Option
17/04/2021
24/04/2021
7 900 €
Book