Chalet Oxalys
and its surroundings
The prestigious chalet Oxalys, ideally located in the district of Renarde, 220 metres from the ski slopes, offers a panoramic view of the station Meribel.
Chalet Oxalys offers interior design and high-end equipment, an idyllic setting to relax while enjoying the indoor and outdoor environment. This prestigious chalet with several balconies and a large terrace, enjoying an outdoor Jacuzzi, is ideal to enjoy the view of the resort Meribel, while having the opportunity to relax in the Nordic bath and sauna.
His universe refined and warm at the same time will allow you to enjoy large spaces that can accommodate your loved ones. Its interior design takes the traditional codes of wooden mountain chalets, while having the presence of natural light thanks to large windows and outside openings also making you enjoy the best view possible.
The living space offers a generous metal table in industrial style, around which you can enjoy a friendly meal after a day of winter activity, while enjoying the panoramic view offered by the large windows overlooking the slopes.
This prestige chalet offers large friendly spaces as well as more intimate spaces in which you can find yourself, in a cozy universe, ideal to relax and rest.
This prestigious chalet of 400 sq.m, on 4 floors, will allows you to accommodate up to 15 adults, with its 7 en-suite bedrooms, double ot twin rooms for children, ideal for enjoying reunions with family or between friends.
Chalet Oxalys offers you the opportunity to relax and spend convivial moments in an idyllic and warm atmosphere, in order to make you enjoy a very pleasant stay.
The Chalet Oxalys is located in a quiet area, near the centre and 220 metres from the slopes of Meribel.
LOCATION
Distance from the center : 450 m
Closest ski slope : Doron
Distance from the slopes : 220 m
Distance to ski school : 750 m
Closest ski lift : Front de neige / Snowfront
Distance from ski lift : 750 m
Coordinates
Latitude : 45.3976664
Longitude : 6.5683772
RESORT ACCESS
Courchevel altiport : 35min / 20km
Megeve altiport : 1h / 85km
Chambery airport : 1h / 100km
Geneva airport : 2h / 180km
Lyon airport : 2h / 180km
Albertville train station : 45min / 45km
Bourg Saint Maurice train station : 50min / 45km
Chambery train station : 1h / 180km
Lyon train station : 2h / 190km
Moutier train station : 30min / 20km
Sallanches train station : /
Cimalpes Services :

Catering

*Subject to the availability of the staff.

Indicative price, for a 7-day booking for 8 people.

Half board does not include food.

Breakfast service
Managed by a housekeeper - 2h30 per day
1 500 €

Half board service
Managed by a chef - 9h30 per day
7 breakfast + 7 lunchs or 7 breakfasts + 7 dinners
3 200 € - Food and drinks not included
By selecting your catering, you have the possibility to add additionnal services
Welcome
---
Reception at the chalet
Firewood
Slippers
Bathrobe
Gourmet welcome basket
Basket needed on arrival: Dishwasher tablets, sponge, multi-surface products, etc.
Champagne (in winter only)
Toiletry products in each bathroom
Housekeeping & Linens
---
End of stay cleaning
Linens (towels and sheets)
Beds made on your arrival
Daily cleaning
Catering
---
Good to know
---
Animals not permitted
Smoking not permitted
Additional fees
Tourist tax
Cancellation insurance 3%
Possible house staff overtime
Equipements
Multimedia
---
TV
SONOS speaker
DVD player
General equipments
---
Parking space
Boots heater
No elevator
Outdoor furniture
Wood Stove
Baby cot
High chair
Household appliance
---
Microwave
Fridge
Freezer
Raclette machine
Fondue appliance
Vaccum
Nespresso
Iron
Mixer
Device with grill-stone
Kitchen exhaust hood
Kettle
Toaster
Pressure-cooker
Milk frother
Induction hob
Dishwasher
Washing machine
Dryer
Oven
Level 1
Large sunny terrace with garden furniture and access to the hot tub and sauna.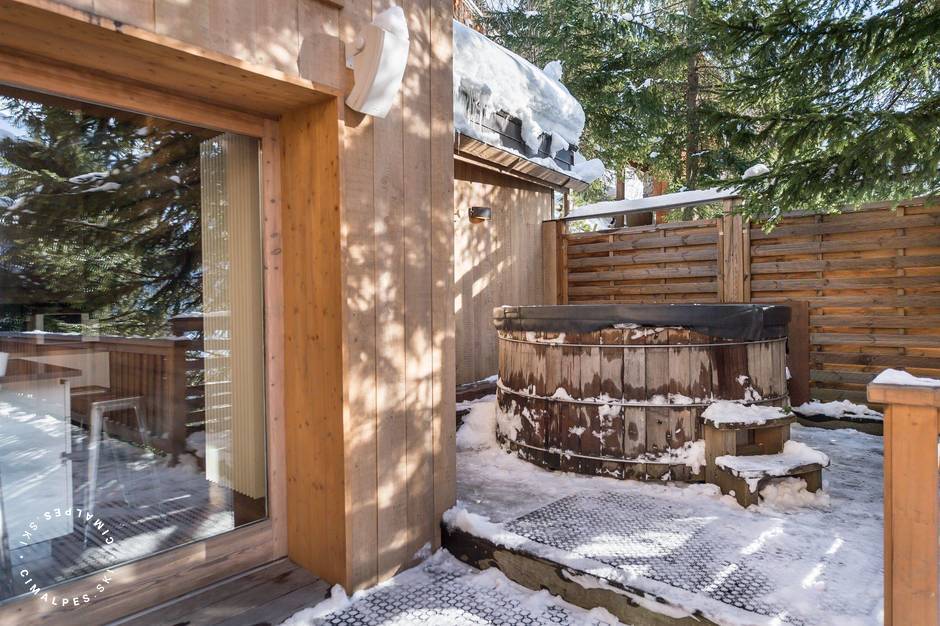 Winter 2020/21
You wish to add a catering service ?
Catering
*Subject to the availability of the staff.
Indicative price, for a 7-day booking for 8 people.
Half board does not include food.
Breakfast service
Managed by a housekeeper - 2h30 per day
1 500 €

Half board service
Managed by a chef - 9h30 per day
7 breakfast + 7 lunchs or 7 breakfasts + 7 dinners
3 200 € - Food and drinks not included
Arrival date
Departure date
Price
December 2020
05/12/2020
12/12/2020
BOOKED
12/12/2020
19/12/2020
14 900 €
Book
19/12/2020
26/12/2020
19 400 €
BOOKED
BOOKED
26/12/2020
02/01/2021
28 100 €
BOOKED
BOOKED
January 2021
02/01/2021
09/01/2021
17 500 €
BOOKED
BOOKED
09/01/2021
16/01/2021
14 900 €
Book
16/01/2021
23/01/2021
14 900 €
BOOKED
BOOKED
23/01/2021
30/01/2021
14 900 €
Book
30/01/2021
06/02/2021
17 500 €
Book
February 2021
06/02/2021
13/02/2021
22 200 €
BOOKED
BOOKED
13/02/2021
20/02/2021
28 100 €
BOOKED
BOOKED
20/02/2021
27/02/2021
22 200 €
Book
27/02/2021
06/03/2021
22 200 €
Book
March 2021
06/03/2021
13/03/2021
17 500 €
Book
13/03/2021
20/03/2021
17 500 €
Book
20/03/2021
27/03/2021
17 500 €
Book
27/03/2021
03/04/2021
14 900 €
Book
April 2021
03/04/2021
10/04/2021
14 900 €
Book
10/04/2021
17/04/2021
14 900 €
Book
17/04/2021
24/04/2021
14 900 €
Book