Chalet Pure Black Crystal
and its surroundings
You will be charmed at first sight by this magnificent luxury chalet located in the quaint resort village of Saint-Martin de Belleville.
The architect conceived a truly unique interior. When you arrive in the spacious living area, you will be surprised to discover different ceiling heights. The architect wanted to have both the volume of open areas and the intimacy of closed spaces. The dining room and its open plan kitchen feature high ceilings from which hangs a marvellous chandelier. Whereas, the living room features lower ceilings that provide both the chalet feel and this sense of intimacy. A sublime central fireplace is located at the junction of these two living areas and provides this additional touch of warmth to this already incredibly welcoming universe of wood ceilings and stone walls.
From the living room, step out to a lovely terrace to enjoy the breath-taking view onto the Alpine peaks. A crackling fire, the panoramic view of the snowy peaks, two wide and cosy sofas facing each other... you have all the conditions to spend a special moment with family and friends.
Chalet Pure Black Crystal features a relaxation area with a massage room, sauna and a beautiful indoor pool. If you prefer to enjoy the fresh air of the mountain, go to the nordic bath located on the terrace of the ground floor.
The rooms are all incredibly cosy and welcoming. The floors invite your feet to enjoy warm carpets, natural wood dresses the walls and clear textiles bring a cocooning note. Children have their very own space: a bedroom with bunkbeds of typical Savoyard decoration. Let's have fun climbing up those sturdy ladders to reach the bed!
Chalet Pure Black Crystal offers a traditional and chic atmosphere. You will be captivated by the authentic character of this superb property with upscale amenities. It is the ideal place to spend time with your family and/or friends and relax while enjoying the tranquillity of the mountains and the magnificent panorama accessible from your living room or installed on the balcony, in comfortable long chairs.
LOCATION
Distance from the center : 0 m
Closest ski slope : Sainte Martin
Distance from the slopes : 800 m
Distance to ski school : 800 m
Closest ski lift : TK du Village
Distance from ski lift : 800 m
Coordinates
Latitude : 45.3789619
Longitude : 6.5024847
RESORT ACCESS
Courchevel altiport : 1h05 / 37 km
Megeve altiport : 1h35 / 84 km
Chambery airport : 1h17 / 104 km
Geneva airport : 2h19 / 139 km
Lyon airport : 2h01 / 182 km
Albertville train station : 45 min / 46.6 km
Bourg Saint Maurice train station : 52 min / 47 km
Chambery train station : 1h14 / 139 km
Lyon train station : 2h20 / 195 km
Moutier train station : 27 min / 20 km
Sallanches train station : 1h44 / 90 km
Welcome
---
Reception at the chalet
Firewood
Slippers
Champagne (in winter only)
Fresh flowers (in winter only)
Housekeeping & Linens
---
Linens (towels and sheets)
Beds made on your arrival
Daily cleaning (in winter only)
Staff
---
Private shuttle 1 ride in the am, 1 ride in the pm
Catering
---
Chef for dinner
Chef for tea time
Chef for breakfast
Good to know
---
Staff
CHEF
HOUSEKEEPER
CHAUFFEUR
Equipements
The chalet is equipped with high-tech equipment driven by iPad. The sound system of the chalet serves various leisure areas such as swimming pool, massage room, master bedroom and living room.
Multimedia
---
Wifi
TV
Decoder
Blue-ray player
SONOS speaker
BOSE speakers
Bluetooth speaker
Netflix
Spotify
Satellite TV
General equipments
---
Household appliance
---
Coffee machine
Freezer
Raclette machine
Fondue appliance
Vaccum
Ironing board
Nespresso
Iron
Electric hob
Kitchen exhaust hood
Toaster
Dishwasher
Washing machine
Dryer
Oven
Level 0
The swimming pool : Basin surface : 22 m². Volume : 27.5 m3
Nordic bath
Italian style shower
Relaxation area
Swimming pool
Sauna
Level 1
Mezzanine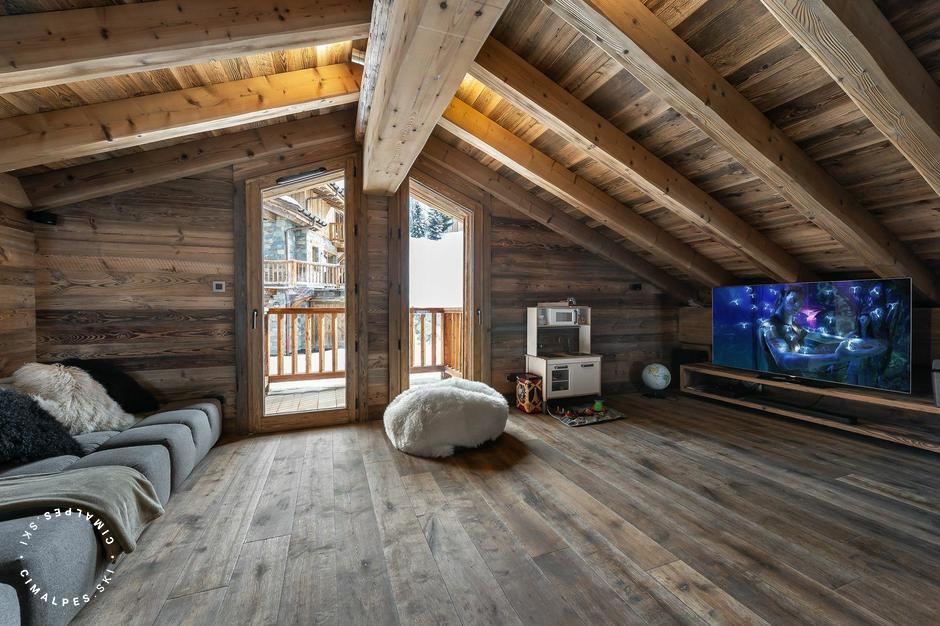 Winter 2019/20
Arrival date
Departure date
Price
January 2020
18/01/2020
25/01/2020
14 500 €
BOOKED
GIFT
BOOKED
25/01/2020
01/02/2020
14 500 €
BOOKED
GIFT
BOOKED
February 2020
01/02/2020
08/02/2020
16 000 €
BOOKED
GIFT
BOOKED
08/02/2020
15/02/2020
24 000 €
GIFT
Book
15/02/2020
22/02/2020
30 000 €
BOOKED
GIFT
BOOKED
22/02/2020
29/02/2020
24 000 €
BOOKED
GIFT
BOOKED
29/02/2020
07/03/2020
16 000 €
GIFT
Book
March 2020
07/03/2020
14/03/2020
19 000 €
BOOKED
GIFT
BOOKED
14/03/2020
21/03/2020
14 500 €
BOOKED
GIFT
BOOKED
21/03/2020
28/03/2020
14 500 €
BOOKED
GIFT
BOOKED
28/03/2020
04/04/2020
14 500 €
BOOKED
GIFT
BOOKED
April 2020
04/04/2020
11/04/2020
14 500 €
BOOKED
GIFT
BOOKED
11/04/2020
18/04/2020
14 500 €
BOOKED
GIFT
BOOKED
18/04/2020
25/04/2020
14 500 €
GIFT
Book