Chalet Tasna
and its surroundings
In the station's most popular hamlet, Petit Alaska, is Chalet Tasna. This prestigious chalet, enjoys an ideal location close to the city centre, and between 350 and 500 metres from the ski slopes.
The hamlet of Petit Alaska is an architectural feat: all chalets are built in the slope of the mountain and the layout allows everyone to enjoy unobstructed views of the mountains and Val d'Isère. Access to various chalets of the hamlet is made either from the outside via the narrow streets reminiscent of the mountain villages of yesteryear, either by lift serving the entrance of each chalet and leading to a panoramic platform on top floor.
The chalet 'Tasna' is a luxury chalet, however it remains a human-sized chalet where volumes are tailor measured to families seeking for conviviality. The interior design is a subtle blend of wood, leather and natural fabrics mixing alpine and contemporary styles ... The result is successful.
You will appreciate the large volumes and numerous high-end amenities the chalet 'Tasna' has  to offer. This prestigious chalet welcomes ten people in its four beautiful rooms. The level of equipment and service is worthy of the greatest hotels of the resort.
Returning to the chalet after a long day of skiing will be a daily pleasure, you will not resist the temptation of relaxing in the outdoor Jacuzzi. Younger ones will spend long evenings in the mezzanine of the chalet at the controls of the lastest video game console.
With family or friends, you will love the beautiful intimate luxury chalet 'Tasna'. Its large rooms, its architecture, its decoration and its modern amenities will ensure the success of your winter sports holidays.
Located in the hamlet of Petit Alaska, a quiet area near the centre and ski lifts .
LOCATION
Distance from the center : 500 m
Closest ski slope : Front de neige - Solaise - Face de Bellevarde
Distance from the slopes : 400 m
Distance to ski school : 500 m
Closest ski lift : Olympique - Solaise Express
Distance from ski lift : 450 m
Coordinates
Latitude : 45.450988
Longitude : 6.972274
RESORT ACCESS
Courchevel altiport : /
Megeve altiport : /
Chambery airport : /
Geneva airport : /
Lyon airport : /
Albertville train station : /
Bourg Saint Maurice train station : /
Chambery train station : /
Lyon train station : /
Moutier train station : /
Sallanches train station : /
Cimalpes Services :

Catering

*Subject to the availability of the staff.

Indicative price, for a 7-day booking for 8 people.

Half board does not include food.

Breakfast service
Managed by a housekeeper - 2h30 per day
1 680 €

Half board service
Managed by a chef - 9h30 per day
7 breakfast + 7 lunchs or 7 breakfasts + 7 dinners
3 000 € - Food and drinks not included
By selecting your catering, you have the possibility to add additionnal services
Welcome
---
Reception at the chalet
Firewood
Slippers
Bathrobe
Gourmet welcome basket
Basket needed on arrival: Dishwasher tablets, sponge, multi-surface products, etc.
Fresh flowers (in winter only)
Toiletry products in each bathroom
Housekeeping & Linens
---
End of stay cleaning
Middle of stay cleaning
Linens (towels and sheets)
Beds made on your arrival
Change of linens in the middle of your stay (in winter only)
Good to know
---
Animals not permitted
Smoking not permitted
Additional fees
Tourist tax
Cancellation insurance 3%
Equipements
Multimedia
---
General equipments
---
Elevator
Garage
Wood fireplace
Ski locker
Boots heater
Household appliance
---
Coffee machine
Microwave
Fridge
Freezer
Raclette machine
Fondue appliance
Vaccum
Nespresso
Blender
Mixer
Device with grill-stone
Waffle iron
Kitchen exhaust hood
Kettle
Toaster
Ceramic hob
Dishwasher
Washing machine
Dryer
Oven
Floor -1
The hammam is in the bathroom.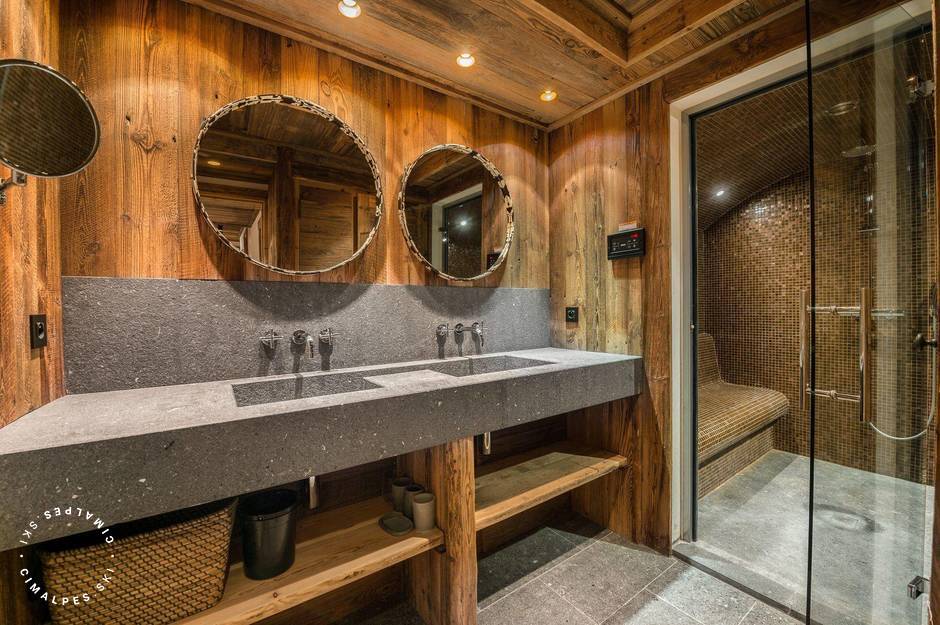 Floor 0
Floor 1
TV lounge located in the mezzanine, above the living room.
Winter 2020/21
You wish to add a catering service ?
Catering
*Subject to the availability of the staff.
Indicative price, for a 7-day booking for 8 people.
Half board does not include food.
Breakfast service
Managed by a housekeeper - 2h30 per day
1 680 €

Half board service
Managed by a chef - 9h30 per day
7 breakfast + 7 lunchs or 7 breakfasts + 7 dinners
3 000 € - Food and drinks not included
Arrival date
Departure date
Price
November 2020
28/11/2020
05/12/2020
6 200 €
Book
December 2020
05/12/2020
12/12/2020
6 200 €
Book
12/12/2020
19/12/2020
6 900 €
Book
19/12/2020
26/12/2020
12 500 €
BOOKED
BOOKED
26/12/2020
02/01/2021
16 500 €
BOOKED
BOOKED
January 2021
02/01/2021
09/01/2021
9 900 €
Book
09/01/2021
16/01/2021
6 900 €
BOOKED
BOOKED
16/01/2021
23/01/2021
6 900 €
Book
23/01/2021
30/01/2021
6 900 €
Book
30/01/2021
06/02/2021
6 900 €
Book
February 2021
06/02/2021
13/02/2021
11 900 €
Book
13/02/2021
20/02/2021
16 500 €
Book
20/02/2021
27/02/2021
12 500 €
Book
27/02/2021
06/03/2021
11 900 €
Book
March 2021
06/03/2021
13/03/2021
8 200 €
Book
13/03/2021
20/03/2021
8 200 €
BOOKED
BOOKED
20/03/2021
27/03/2021
8 200 €
Book
27/03/2021
03/04/2021
9 900 €
Book
April 2021
03/04/2021
10/04/2021
8 200 €
BOOKED
BOOKED
10/04/2021
17/04/2021
6 900 €
Book
17/04/2021
24/04/2021
6 200 €
BOOKED
BOOKED
24/04/2021
01/05/2021
6 200 €
BOOKED
BOOKED